State Bank of India is one of the most reputed banks in India, which is held in high regard because of its excellence in customer services as well as wide coverage across the country. Included in the services and facilities provided by SBI to its customers is the online balance Inquiry feature, which enables the user to check the balance right from the comfort of their home or office, without actually having to visit the bank branch for the same.


How to check balance by SMS ?
You can use "sbi quick"  facility to know your account balance. To enable this facility, you have to send an SMS (REG<space>account number) to "9223488888" from the mobile number. Mobile number should be added before with your saving account
Now you can know account balance also by just giving miss call at number 09223866666. You can also send SMS "MSTMT" to same number to Check your balance in your sbi account.
The whole procedure is quite quick and easy and can be carried out following some simple steps, which are listed as follows:
1. Log in to your bank account by visiting the online site of SBI at https://onlinesbi.com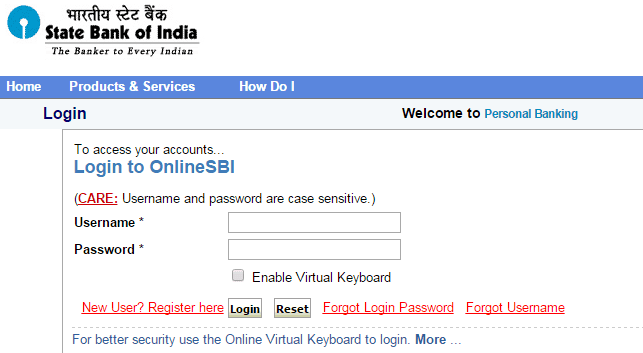 2. Now click on the option of personal banking.
3. The user will be asked to enter his user name as well as password, which he can do by using virtual keyboard option made available by SBI for enhanced security.
4. There will be an option "Click here for balance". The user has to select this option and the account balance will be available to him. You can also view last ten transactions in account details.